29 avril 2012
7
29
/

04
/

avril
/

2012
11:25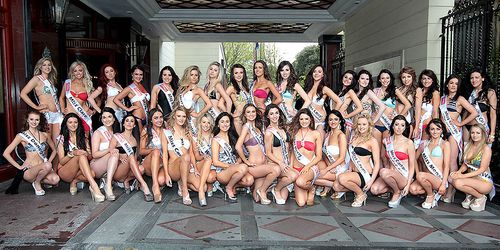 MISS BUCKWHALEYS.IE Kyla Flaiani is 19 and half Italian. She is studying holistic therapy and recently signed to Assets. She is sponsored by Dublin's Bucks Townhouse.
MISS WATERFORD Hannah Cassidy, 18, is following in the footsteps of sister Katleyn who models with Assets and was in the Miss Ireland top five in 2010.
MISS DUBLIN CENTRAL Beautician Kelsey Flood, 19, is hoping to become a model.
MISS MAYO BREAFFY HOUSE HOTEL Marie Hughes, 21, was the final entrant into Miss Ireland having won her selection last Saturday.
MISS DUBLIN WEST Sponsored by The Canal Bar, Niamh McKeever, 20, is a student at NCAD and models for Compton.
MISS DONEGAL Sarah Kennedy, 22, comes from a farming background and is a full-time business student.
MISS CORK Susan Brosan, 20, is a model with Lockdown agency.
MISS LEITRIM Sponsored by Lough Allen Spa Hotel, Ciara Morrisey is the youngest in the competition and currently in school.
MISS DUBLIN CITY Rachel Dolan is 5ft9ins, a customer service rep and is 18.
MISS ANTRIM Nicole Caldwell, 19, is a classroom assistant and former novice showjumping champion.
MISS MONAGHAN Noeleen Brady, 22, has a BA in Home Economics and Religious Education and would love to make modelling a career.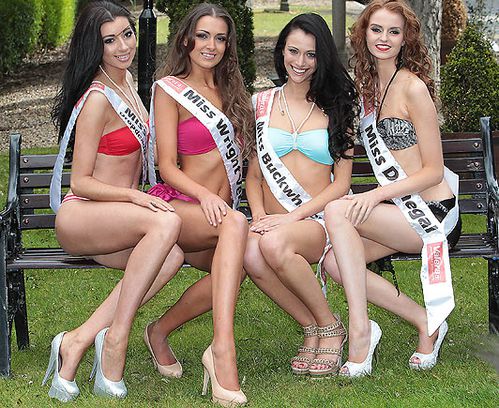 MISS FINGAL Beauty therapist Rachel Cohen, 20, is sponsored by Vanity X.
MISS MEATH Sponsored by Solar Nightclub, Rebecca Grant, 19, recently signed to De Haviland Models. She is studying performing arts.
MISS SUNDAY WORLD Esme Mansergh Wallace, 23, from Tipperary is a skilled horse woman and has represented Ireland.
MISS ARMAGH Jade O Neill, 21, recently returned from London where she is studying fashion.
MISS GALWAY Kate Berry, 19, is sponsored by Coyotes Late Night Bar.
MISS CLARE Hazel McMahon, 23, is a psychiatric nurse.
MISS DUBLIN SOUTH Sponsored by Vanilla Nightclub, Jennifer Manning, 20, is in her first year at UCD studying physiotherapy.
MISS KILDARE Hailey McCabe is 17 and studying to become a make-up artist.
MISS CAVAN Erica Joyce, 19, was the runner up of the Miss Cavan final but the winner had to step down due a death in her family.
MISS DOWN Caitlin Milligan, just turned 21, is a student and working as a community care worker.
MISS DUBLIN NORTH Aisling Alcock, 23, is a beautician and keen poker player who competes at various tournaments. Her Mother was a runner up in Miss Ireland 1968.
MISS SLIGO Sponsored by Velvetroom.ie, Caoimhe Tuohy, 21, is studying arts and children studies at the NUI Galway and works with the Catwalk Agency.
MISS CARLOW Ciara Allen is actually from Cork but representing Carlow via the Carlow based company Drop Dead Gorjess.com. She models with Pulse Models.
MISS LONGFORD Christine Breslin, 22, is a student and part-time waitress.
MISS LOUTH Amira Graham, 18, is a performing arts student and appeared in RTE series Mission Beach USA and sci-fi hit Game of Thrones. She is sponsored by Silence Nightclub.
MISS WEXFORD Make-up artist Clare Shaw, 20, is related to the famous playwright George Bernard Shaw.
MISS WICKLOW Ciara Kelly, 21, is working in marketing and wants to open her own marketing company.
MISS KERRY Student Clionadh O Connor, 19, models with Pulse Models. She is a fluent Irish speaker, fiddle player and all-Ireland runner. She is studying radiotherapy and oncology.
MISS WESTMEATH Emma Impeciati, 18, is 5ft8ins and models with the Catwalk Agency. She comes from an Italian background.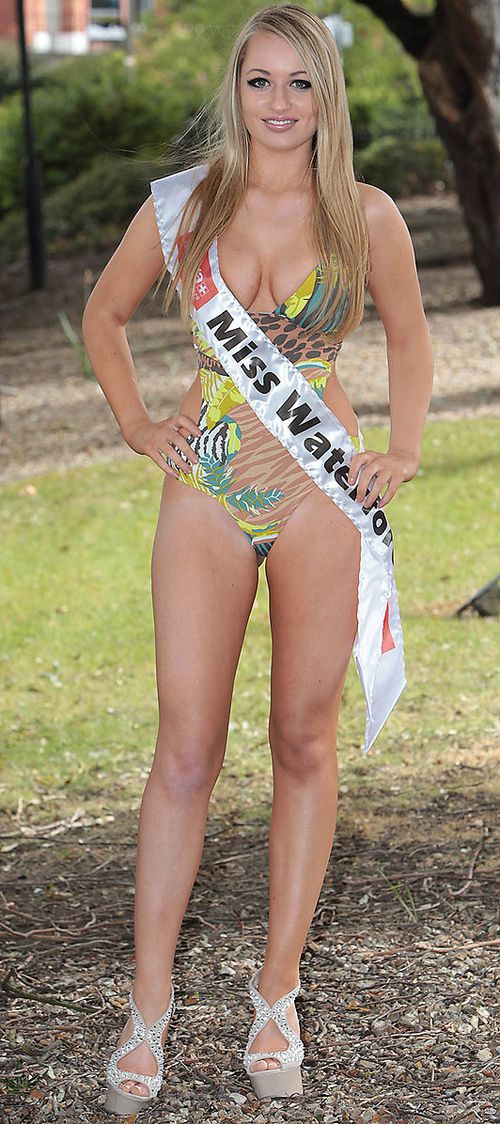 Miss Waterford ... Hannah Cassidy, 18